Change to Club Sailing Instructions - 1st October 2019
From 1st October 2019, club Sailing Instruction 9.2 will change to:
9.2           A general recall will be signalled by the displaying of the First Substitute flag (two sound signals) as soon as possible after the class start. The First Substitute flag will be removed (one sound signal) one minute after the class start. The warning signal for a new start for the recalled class shall be made one minute after the First Substitute is removed. Subsequent classes will still start at their scheduled time. This changes RRS 29.2. An explanatory document with diagrams is available HERE for more details).
An email has been sent to members describing the change, the reason for it, and the implications to OODs and competitors. If you haven't received this email, you can find the content of it HERE.
Fleet Changes for Club Series
From Wednesday, 10th April 2019, our main club series, with the exception of the Winter series, will have three fleet starts, Fast Handicap, Slow Handicap and Solos, starting at 2 minute intervals in that order, rather than our previous two fleets, General Handicap and Solo. The OOD has the discretion to group starts together if it appears that only a few boats will be present for a particular start.
Fast Handicap has class flag numeral "4" (a white cross on a red background pennant), and is for boats with a lower than or equal to the Portsmouth Number of the Finn dinghy (1051). This includes Int. Canoe, Contender, Finn, Fireball, Flying Fifteen, Merlin-Rocket, Osprey, Phantom, RS 100 8.4, RS 200, RS 400, and Tasar.
Slow Handicap has class flag "Y" (diagonal red and yellow stripes), and is for boats with a Portsmouth Number greater than 1051. This includes 420, Argo, Byte CII, Enterprise, Europe, Lark, Laser, Laser 2000, Laser 4.7, Laser Radial, Miracle, Mirror, Optimist, RS Aero 7, RS Feva XL, RS Vareo, Solo, Topper, and Wanderer.
Solo has class flag numeral "1" (a red circle on a white background pennant).
The Winter series will still have a single start for the General Handicap (i.e. all boats).
Click here to see the notice of change and start sequence diagram.
2019 South Wales Traveller's Series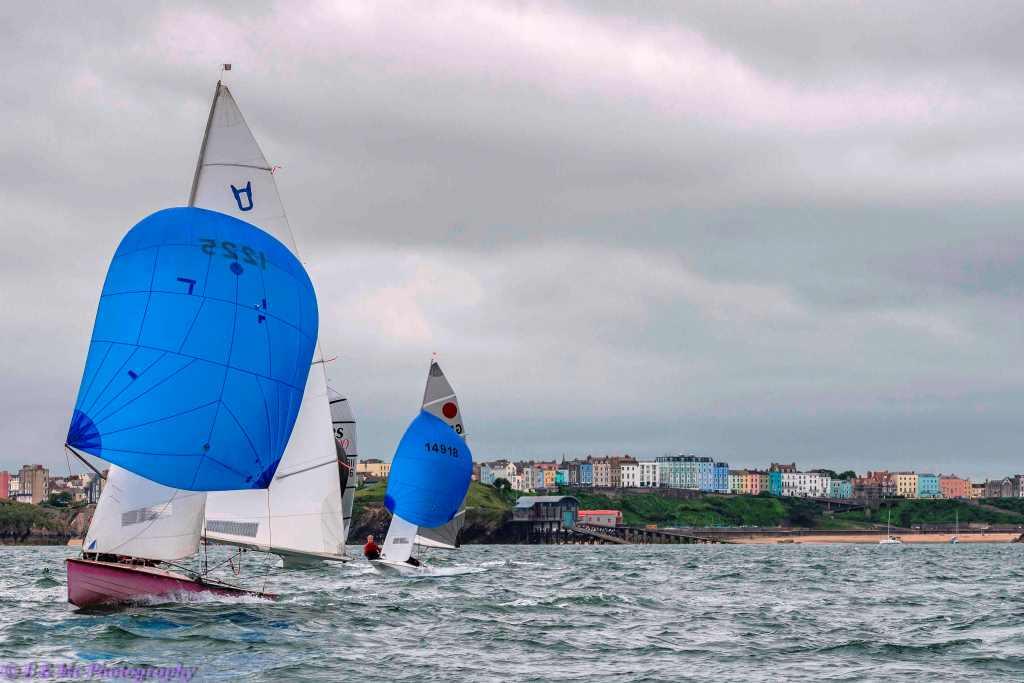 Tata boats at Tenby
The successful and popular Traveller's Series continues in 2019.
2018 and saw 24 boats travel to 6 venues with the winners travelling to 4 of the venues, winning the first three
Llandegfedd boats have supported the series in the past and we have included their venue this year as a result as well as visits to perennial favourites Saundersfoot, Tenby and Mumbles before finishing the series at Tata Steel.
This is an Open Event, inviting others from around the region to enter and join in the fun FREE of charge.
The schedule:
Saundersfoot May 29th to 31st
Mumbles June 8th and 9th
Tenby June 22nd and 23rd
Pembroke YC June 29th and 30th
Llandegfedd July 20th and 21st
Tata Steel Regatta October 19th and 20th
Event Contact: Andrew Jenkins
Notice of Race: Click here to read the 2019 Traveller's Series Notice of Race
Sailing Instructions: There will be no specific Sailing Instructions as this will be covered by each individual Event Organising Authority. For details, look to each event organisation website