The idea of helping to make a race for Ospreys round the Isle of Wight actually happen as part of the celebration of Ian Proctor's Centenary was formulated during a winter afternoon walk with Oscar and Lisa. The last time the Ospreys raced around the island was in 1988, a race that was won by Oscar and Dave Griffiths. Since that time there has been enthusiasm within the class for a repeat but it has never quite got off the ground.Oscar had the contacts with Lymington Town Sailing Club which was once a strong Osprey club and with my involvement with the 2018 Osprey Class Committee between us we could make this happen.
So after much hard work we assembled 9 Ospreys, 3 RIBs and crews, a mother ship, Race Officer, Safety Coordinator, electronic trackers, sponsors, SI's, Safety Assessments and all the stuff that you need to hold an event like this at Lymington Town SC on Friday 14th September ready to race on either the Saturday or Sunday depending on the weather. The weather forecast for Saturday 15th being warm sunshine and a force 3 to 4 westerly it was a no-brainer that we would go on Saturday.
So the alarm was set for 05:00 and by 06:00 it seemed surreal to be rigging the boat and applying sun block before dawn. We launched at 06:30 just as the sun was rising and had a fantastic sail out to the start area in a gentle breeze and the sun just rising above the horizon.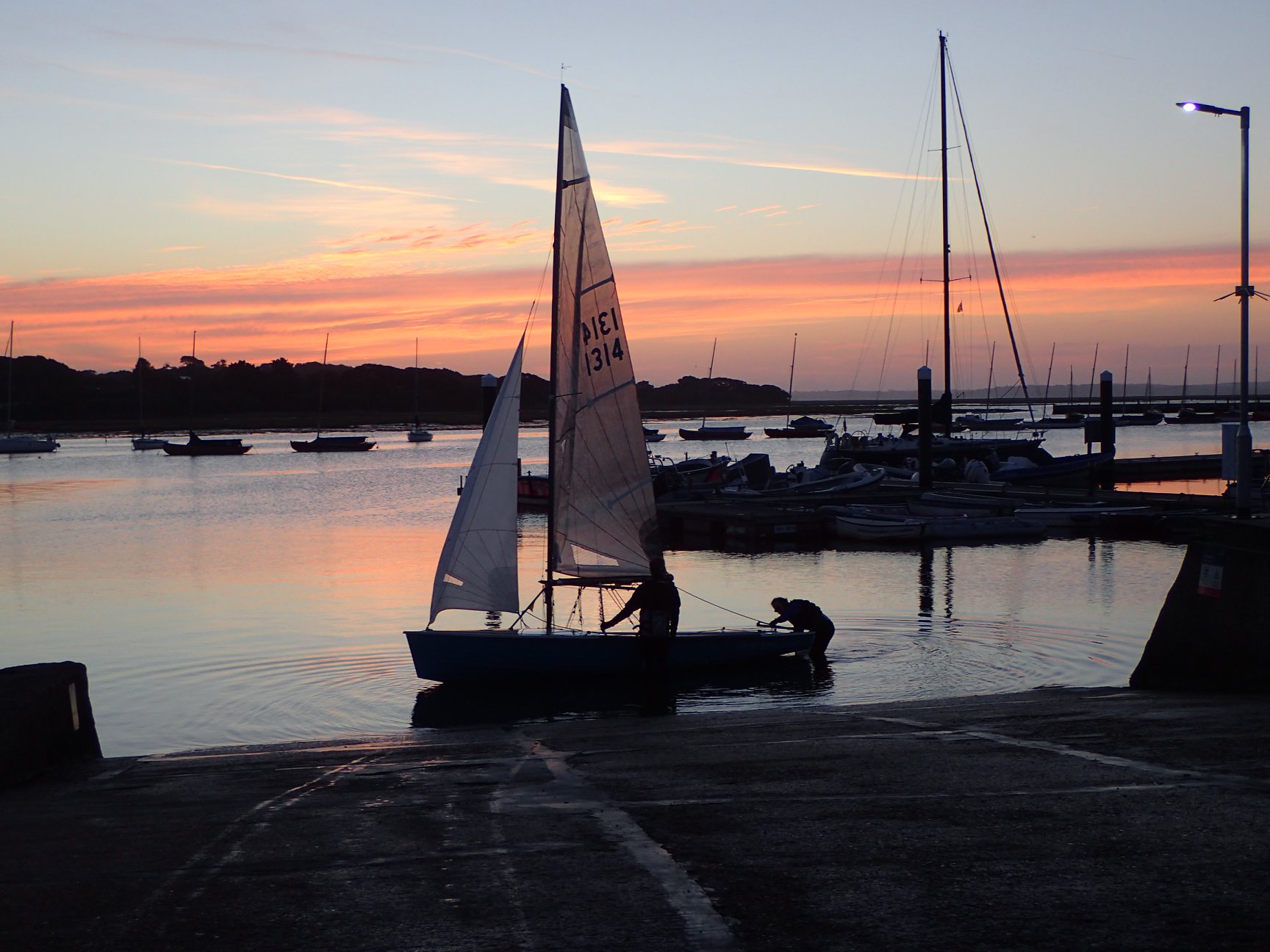 Ospreys launching at Dawn
The start was just after 07:00 and we set off down tide for the needles on a gentle starboard tack. We were having a close battle with Terry Curtis and Pete Greig the current National Champions and all was looking good until the boats to leeward picked up more wind and tide and shot of into a huge lead by the Needles - but there was still a long way to go.
Having rounded the Needles we took an inshore route to St Catherine's Point hoping for a tidal advantage. It was at this point that it became very clear that this island is much larger than Caldey Island off Tenby!We continued to trade places with Terry and Pete down the run eventually pulling clear of them - I had the energy at that time to pump the spinnaker. Rounding St Catherine's was an interesting experience with the overfalls kicking up some awkward waves.I wished I had taken some sea sick pills but by concentrating on the kite I got through it.We now found ourselves in a breakaway group of four boats crossing Sandown Bay with the others around a mile behind which we considered a great recovery from where we had been.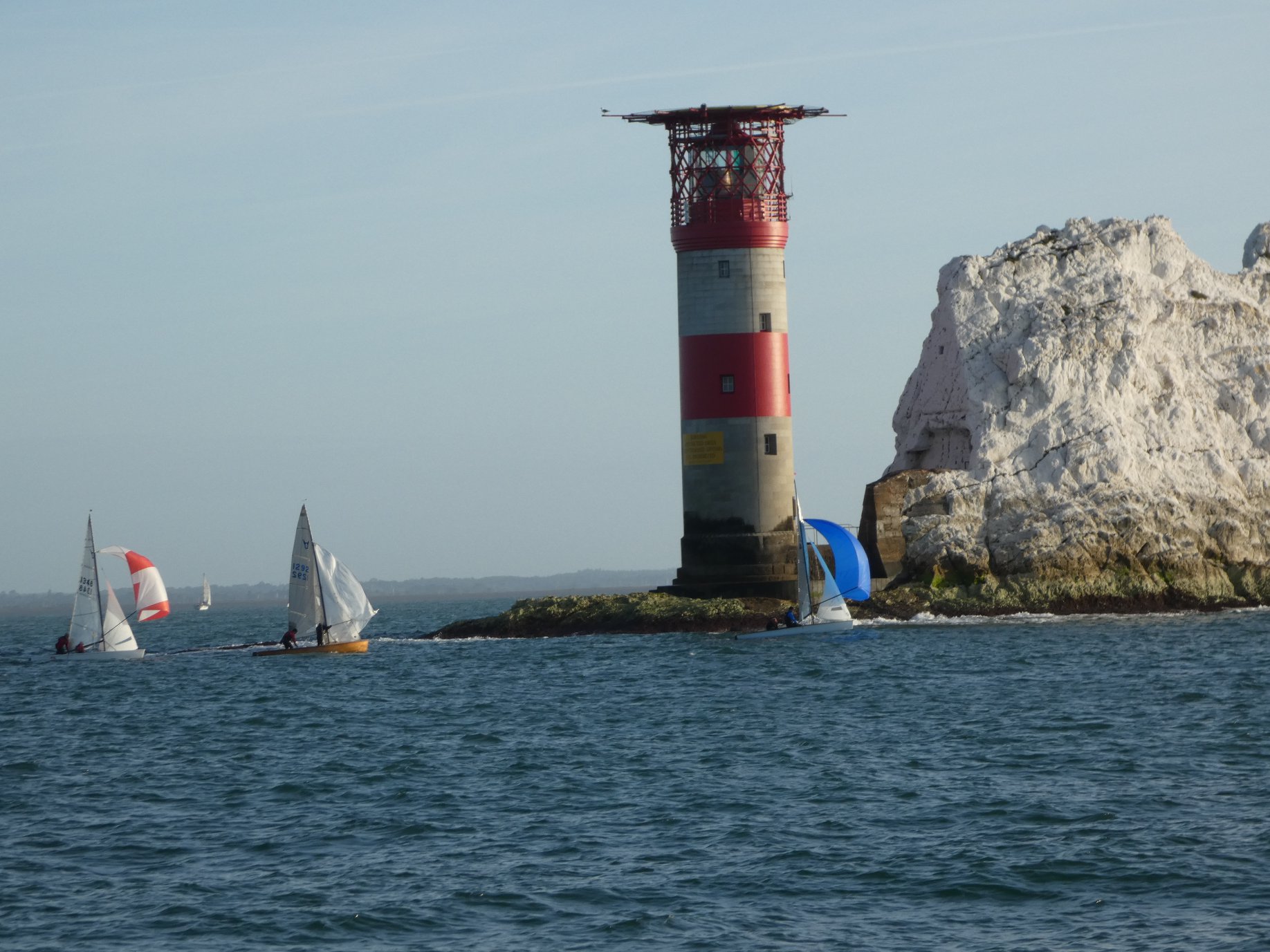 Rounding the Needles in pursuit of Terry
As we approached the turning mark at Bembridge Ledge the wind died and we watched as the boats behind slowly closed up on us.
Before the race I had considered that there were going to be two particular navigational difficulties, one was identifying the Bembridge Ledge buoy the other being sorting out the tidal streams in the Solent.So to deal with this I had set the buoy as a waypoint in my GPS and Oscar had produced a Tidal Stream Chart, so just when we needed them both I found I had left them safely in the Campervan back at Lymington. Doh I guess I was not well awake at 05:00!
All nine boats converged on the Bembridge Ledge buoy within 7 minutes of each other so effectively the race re-started from here.
Punching the tide up into the Solent we took a short cut over the Ryde Sands and soon we were planning fast with me on the wire, centreboard and rudder up in a couple of inches of water.Just as we were beginning to think we must be through and the water depth was increasing we saw some seagulls standing up on a sand bank in front of us.After some frantic bearing away we bumped over the sand bank giving the bottom of the boat a bit of a polish as we did so.
This manoeuvre served us well and crossing Osborne Bay towards Cowes we were blasting away into the lead with Terry and the others looking to be making no impression on us. I started to think we might have one hand on the trophy - but there was still a long way to go!
Approaching Cowes we kept a little offshore to avoid getting caught in the windshadow off Old Castle Point but that put us further out into the tide and into the path of some large spinnakers coming the other way.This allowed Terry and the others to creep up on us inshore.We guessed that the tide would turn first on the mainland shore with water emptying out of Southampton Water so we carried on across to the North shore, making our way through a fleet of Fast 40+ on the way. There then followed a punishing beat into a strengthening westerly breeze up the West Solent and we were rapidly tiring. I had pulled a muscle in my side, or it might have been a stitch, but anyway it was getting decidedly painful and I was desperately checking the Tacktic hoping for a header so that we could tack in the forlorn hope that I would be more comfortable on the other tack - but all we got were lifts!
Eventually we saw the mouth of a river with yacht masts moored inside, could this possibly be Lymington? But no as we approached it was the Beaulieu River."Nearly there" said Oscar cheerfully "only the length of a round Caldey Island race to go" I'm not sure I found it amusing.However with the tide under us we could soon see Lymington and after a couple of ponderous tacks we were in the river and blasting across the finish line.
We finished fifth in 8 hours thirty four minutes and twenty seconds so unfortunately our tactics up the Solent had not worked out but for all that it was a great sail and I had a huge sense of achievement in having finished it.With a combined 121 years in the boat we were certainly the oldest crew in the race.
Terry and Pete won, but their time of 8 hours twenty seven minutes and 21 seconds means that Oscar and Dave Griff still hold the lap record from 1988 of 7 hours 52 minutes.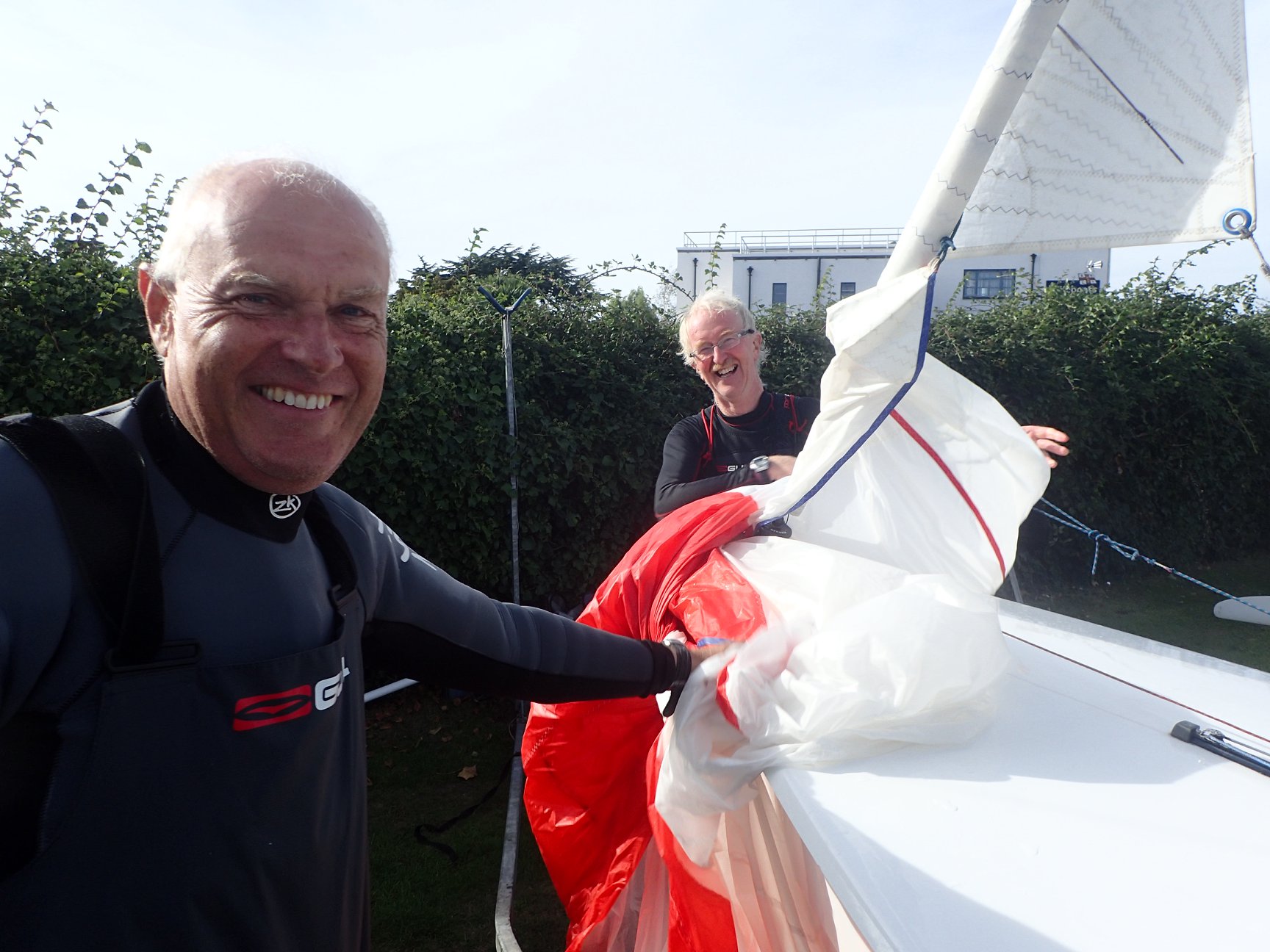 Still smiling after eight and a half hours and 60 miles
Report by David Downs
Photographs copyright: Angela Mamwell